For the Royals, 2011 was a year of firsts. That list included the Major League debuts of more than a dozen players, four players who hit more than 40 doubles,
Alex Gordon
's breakout year and the emergence of starting pitcher
Felipe Paulino
.
Although those encouraging firsts resulted in only four more wins than the team had in 2010, the Royals run differential told a different story. They were outscored by only 32 runs all year, which gave them the second-best differential in the American League Central behind the Detroit Tigers. That was the closest the Royals have been to breaking even since 1994.
But the 2011 Royals accomplished something even more significant that also hasn't been seen in Kansas City since 1994: Posting a positive run differential in blowouts, defined as games decided by five or more runs. A common misconception among the baseball community is that good teams win close games. In fact, the opposite is true. Good teams rarely have to worry about one-run decisions -- which are a function of luck and managerial decisions -- because they win so many blowouts.
The 2011 Royals outscored their opponents 235-228 and went 19-19 in such games. The plus-seven isn't as impressive until the team's recent history in that category is considered. The statistics in the table below represent the team's performance in blowout games since 1994. Thanks to Baseball-Reference.com for the data.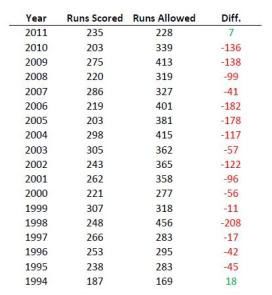 The bottom line is that unlike previous seasons, the 2011 Royals were not on the wrong side of a drubbing very often. Of course, there was the 19-1 loss to the Indians on May 16, a negative-18 that makes the Royals being in the black that much more impressive. Such a turnaround cannot be ignored and probably should be taken as reason to believe the team will take another step in 2012.
Despite losing more than 90 games for the seventh time in eight seasons, the Royals appeared to make real progress in 2011. Going forward, the organization can look forward to being on the right side of those lopsided contests more often than not.